Deputy Attorney General 'Stands By' Comey Memo, Defends the President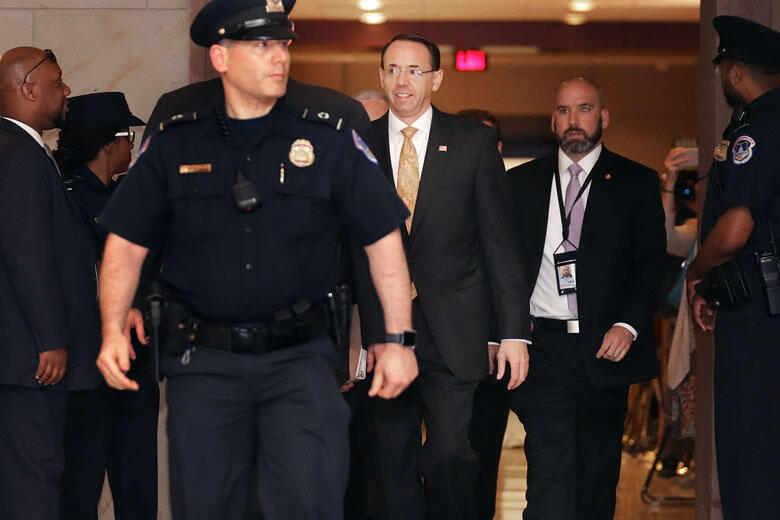 Deputy Attorney General Rod Rosenstein refused to back down to democratic lawmakers on Friday, telling members of Congress he "stands by" his memo to President Trump that recommended former FBI director James Comey be fired.
Liberals were hoping his address on Capitol Hill would be a smoking gun, instead they got a bucket of cold water.
"I wrote it. I believe it. I stand by it," Rosenstein said during his opening statement, reports Fox News.
The memo was cited by President Trump as part of his justification behind the removal of FBI chief Comey. In it, the Deputy Attorney General cites the many problems plaguing the FBI, particularly the director's handling of the Hillary Clinton email investigation.
"Former Department of Justice officials from both political parties have criticized Director Comey's decisions. It was not just an isolated mistake; the series of public statements about the email investigation, in my opinion, departed from the proper role of the FBI Director and damaged public confidence in the Bureau and the Department," Rosenstein told lawmakers.
Rosenstein added that he had discussed the removal of Comey with Attorney General Sessions -then a US Senator- last winter.
"Among the concerns that I recall were to restore the credibility of the FBI, respect the established authority of the Department of Justice, limit public statements and eliminate leaks," he said.
The Deputy AG goes on to say that while he has a friendly relationship with the former FBI chief, the President acted on behalf of the country when he fired the director.
"Notwithstanding my personal affection for Director Comey, I thought it was appropriate to seek a new leader."