Intel Officials: Flynn Transcripts Don't Show Any Criminal Wrongdoing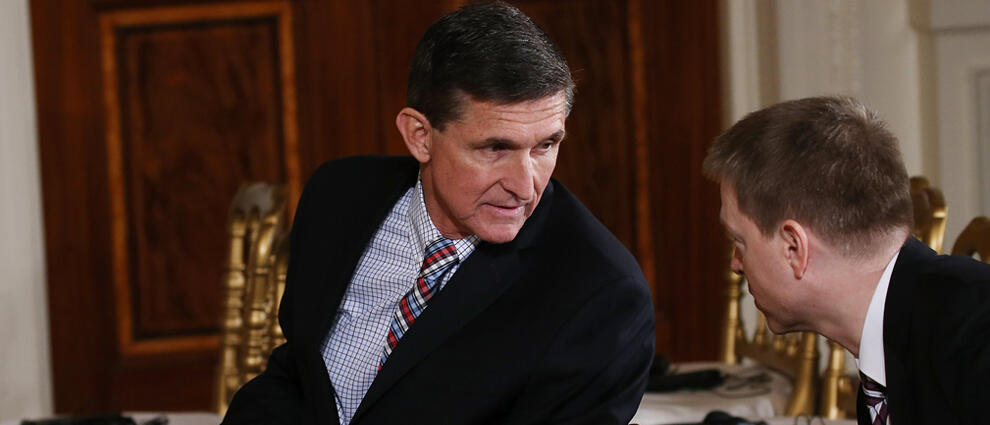 According to several reports, former White House National Security Advisor Mike Flynn is unlikely to face any legal jeopardy as a result of his conversation with Russian officials prior to Donald Trump taking office.
NPR reports that a current U.S. intelligence official has told them that transcripts of Flynn's conversations with Russian Ambassador Sergey Kislyak show no evidence of criminal wrongdoing. The source also tells NPR that, "the transcripts don't suggest Flynn was acting under orders in his conversations."
"I don't think [Flynn] knew he was doing anything wrong," the official told NPR. "Flynn talked about sanctions, but no specific promises were made. Flynn was speaking more in general 'maybe we'll take a look at this going forward' terms."
In addition, NBC's Pete Williams reports that Flynn is unlikely to face legal jeopardy, according to multiple sources.
Per NBC's Pete Williams, the FBI interviewed Flynn shortly after he took office about his conversations with the Russian ambassador, but this was part of the FBI's bigger investigation into Russia's interference in the 2016 election. And Williams adds, according to two sources, the FBI doesn't believe Flynn will face legal jeopardy. One possible problem for Flynn is if he lied to FBI agents. But the people Williams spoke with don't believe this will be a problem.
Despite the wailing from liberals, this is hardly turning out to be the Watergate they desperately hoped it would be.