No, Attorney General Jeff Sessions DID NOT Lie Under Oath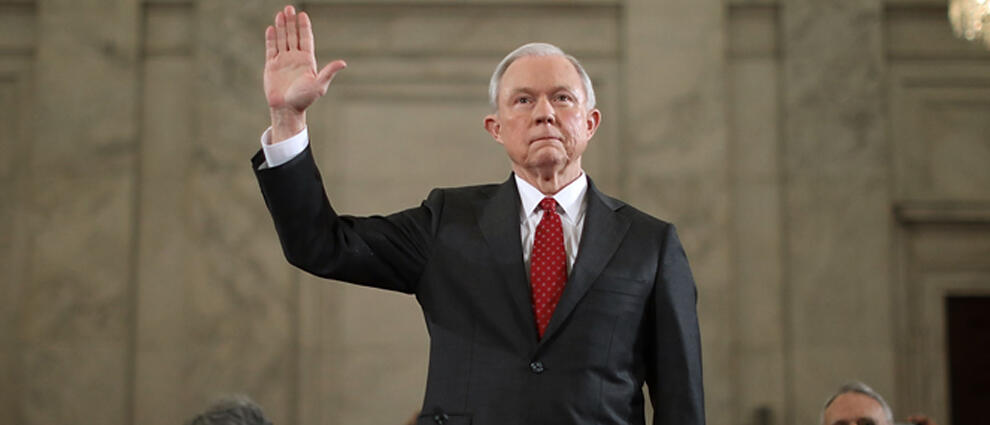 Attorney General Jeff Sessions is the latest member of President Trump's cabinet to find himself at the center of Red Scare 2.0.
On Wednesday evening, The Washington Post reported that in 2016 then-Senator Jeff Sessions spoke twice with Russia's ambassador to the United States Sergey Kislyak. According to the report, Sessions spoke with Kislyak in July and September, once at a Heritage Foundation event that was attended by roughly 50 ambassadors, and once in his Senate office.
Attorney General Sessions has released a statement about the Washington Post's report.
"I never met with any Russian officials to discuss issues of the campaign," Sessions said. "I have no idea what this allegation is about. It is false."
Of course, as a member of the Senate Armed Services Committee, there was nothing illegal or even strange about Senator Sessions speaking to foreign diplomats. Sessions' spokeswoman Sarah Isgur Flores noted that in 2016, Senator Sessions had conversations with more than 25 ambassadors, including the ambassadors to Britain, Korea, Japan, Poland, India, China, Canada, Australia and Germany.
Within hours of the Washington Post's report, top Democrats began calling for Sessions' resignation, including House Minority Leader Nancy Pelosi. In a statement, Pelosi said "under penalty of perjury," Sessions "lied under oath during his confirmation hearing before the Senate."
While Sessions was indeed asked about Russia during his Senate Confirmation hearing, claims that he lied under oath are overblown and driven by politics rather than the facts.
Accusations that Sessions lied during his hearing come from two statements he made: one statement was made in written testimony to Vermont Senator Patrick Leahy and one was made during oral testimony to Minnesota Senator Al Franken.
Let's take them one at a time.
In January, Senator Leahy asked Sessions for answers to written questions as part of his Senate confirmation process. "Several of the President-elect's nominees or senior advisers have Russian ties," Leahy wrote. "Have you been in contact with anyone connected to any part of the Russian government about the 2016 election, either before or after election day?" (emphasis added)
"No," Sessions responded.
The question was not whether or not Sessions had spoken to anyone connected to the Russian government, rather it was specifically about whether or not Sessions had spoken to anyone about the 2016 election. There is currently no evidence that Sessions did.
The next question came from Senator Franken during then-Senator Sessions' confirmation hearing on January 10th. During the hearing, Franken asked about a recent CNN report that had alleged communication between the Trump campaign and the Russian government.
Here's Senator Franken's full question:
FRANKEN: CNN has just published a story, and I'm telling you this about a news story that's just been published, I'm not expecting you to know whether or not it's true or not. But CNN just published a story alleging that the intelligence community provided documents to the president elect last week that included information that quote, "Russian operatives claimed to have compromising personal and financial information about Mr. Trump." These documents also, allegedly, say quote, "there was a continuing exchange of information during the campaign between Trump's surrogates and intermediaries for the Russian government.

Now again, I'm telling you this as it's coming out so...uh...you know...But, if it's true, it's obviously extremely serious. And if there is any evidence that anyone affiliated with the Trump campaign communicated with the Russian government in the course of this campaign, what will you do?
"I'm not aware of any of those activities," Sessions responded. "I have been called a surrogate at a time or two in that campaign and I did not have communications with the Russians."
Sessions was specifically referring to communication with Russians in his capacity as a surrogate for the campaign, the only capacity that was relevant to Senator Franken's question. He is not, as some have suggested, referring to conversations he might have had with a Russian ambassador while carrying out his duties as a member of the Senate Armed Services Committee.
Again, the context of Franken's question is important. The Minnesota Senator was asking him specifically about alleged meetings between Trump surrogates and a shadowy cabal of Russian intelligence agents, not ambassadors he may have spoken to in his capacity as a U.S. Senator.
Of course, the facts of this matter will go largely ignored, abandoned by the opposition media in an effort to smear Attorney General Sessions and push the Russia narrative into several more news cycles.