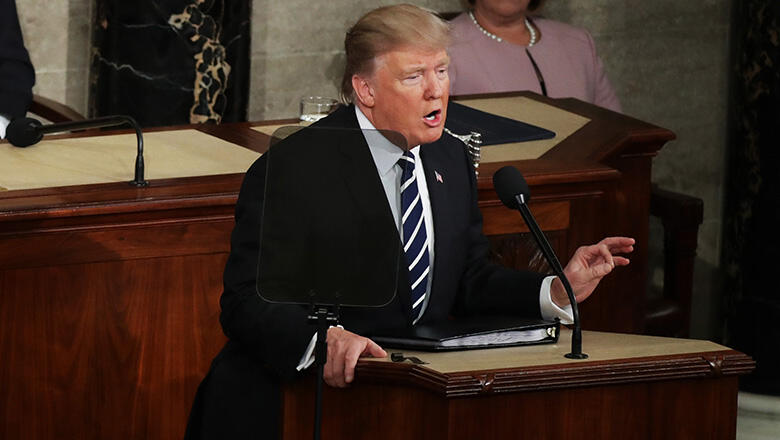 **PRESIDENT TRUMP DELIVERS HIS FIRST STATE OF THE UNION ADDRESS
**WILL DEMOCRATS MAINTAIN COMPOSURE OR WILL PELOSI LEAD EVERYONE IN SONG
**DEMOCRATS INVITE MERYL STREEP AS OPPOSED TO A VETERAN OR TEACHER
**SPEAKER RYAN CONTINUES TO TELL TALL TALES ABOUT HEALTHCARE REPEAL & REPLACE
**PRESIDENT TRUMP INVITES WIDOWS & FAMILY OF THOSE KILLED BY ILLEGAL IMMIGRANTS TO THE SOTU
**DEMOCRATS SKIP THE JOINT ADDRESS OF CONGRESS TONIGHT - SKIPPING WORK AGAIN
4:05PM ET - Congressman Louie Gohmert of Texas has extended an invitation for Sean to attend the State of the Union with him tonight. Sean will have a front row seat to the President's first address of the Joint Session of Congress. The jury is still out on whether a select group of democrats will behave accordingly or turn this into an demonstration.
The sergeant-at-arms will stand at the rear of the House of Representatives on Tuesday night and announce, in a booming voice, the arrival of Donald Trump before a joint session of Congress by intoning: "Mister Speaker, the President of the United States," just like always.
Trump will stride down the center aisle to lusty cheers and hearty handshakes from his Republican supporters. First lady Melania Trump, accompanied by special guests, will smile from the gallery above.
From there, though, the president who favors disruption over decorum can take the night in any number of directions. So can the Democrats who oppose him.
The White House is promising that Trump's first address to Congress will be a forward-looking one about the "renewal of the American spirit." (h/t Washington Times)
4:35PM ET - Reverend Jesse Lee Peterson founder of "Rebuilding the Family by Rebuilding the Man" and author of "The Antidote: Healing America from the Poison of Hate, Blame, and Victimhood, was thrown out of speech he was giving over the weekend by the 'tolerant' left. Peterson was kicked out of an event after he was invited to speak to 800+ high school students at JSA Convention (Junior State of America) in the LA area this weekend. Many of the kids loved the speech, but a couple of the liberal Obama supporters who were in charge got angry because Jesse told them that the idea of "racism" is a myth, that Trayvon Martin and Michael Brown were thugs, and that Black Lives Matter is worse than the KKK. He also said that radical LGBT groups use blacks to push their left wing agenda. That's when all hell broke.
5:05PM ET - New York Times bestselling author David Horowitz in his soon-to-be-published Big Agenda: President's Trump's Plan to Save America, which is the first major book to be released on Trump's presidency, and reveals major components of his "first 100 days" plan and first-term agenda and Amanda Knief, the National Legal and Public Policy Director for American Atheists. She directs American Atheists' policy advocacy, legal strategy, and serves and In-House Counsel debate the democratic meltdown at the Oscars and what we should expect from the Democrats who are actually attending the address of Congress tonight.