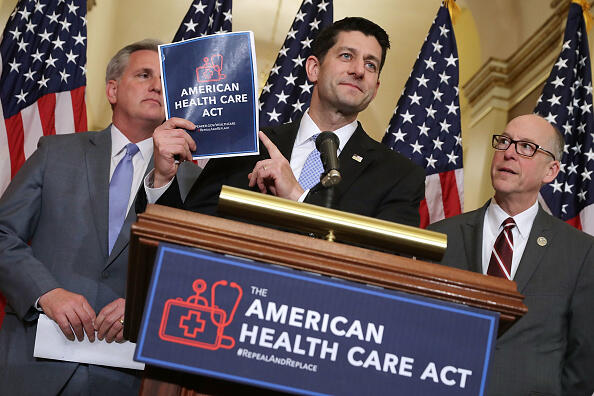 **JULIAN ASSANGE HOLD PRESS CONFERENCE TO DISCUSS CIA VAULT 7
**PAUL RYAN IMPLORES THE HOUSE TO GET ON BOARD WITH 'RYANCARE'
**MCCONNELL SAYS TAX CUTS WAIT AS HEALTHCARE FIGHT CONTINUES
**LYNCH SIGNED FISA WARRANTS ON TRUMP NONE FOR CLINTON
**BIG SPENDER BEHIND A DAY WITHOUT WOMEN: GEORGE SOROS
**DEMOCRATS PUSH TO LOWER THE VOTING AGE TO 17
**SWEDEN SUFFERS UNDER MIGRANT CRIME - DOUBLE MURDER TODAY
**UNDER TRUMP ILLEGAL BORDER CROSSINGS DECREASE BY 40%
4:05PM ET - Senator Rand Paul of Kentucky is leading the charge on the Senate side of the fight against what some are calling Obamacare Lite. He joins to explain why he, and the Freedom Caucus, are working so hard to ensure a full repeal of Obamacare and a replacement that has nothing to do with the health care plan put in place by the Obama administration. Senator Paul feels that Speaker Ryan is purposefully misleading the President on healthcare:
Sen. Rand Paul (R-Ky.) on Wednesday accused House Speaker Paul Ryan(R-Wis.) of trying to deceive President Trump in an effort to win his support for House Republicans' measure repealing and replacing ObamaCare. "I don't think it makes any sense and I think he's trying to pull the wool over the eyes of the president," Paul said in an interview with Breitbart News. "I think when I've spoken with president Trump, I think he agrees with me that we should repeal and replace but I don't think he's stuck on that they have to be in the same bill necessarily. Paul Ryan, I think, is selling it to the White House and telling the White House, 'Oh, it's a piece of cake, it's a done deal,'" he added. (h/t The Hill)
4:35PM ET - Speaker of the House Paul Ryan is here to give his side of the story and explain the health care plan that he and his colleagues are presenting in their Better Way Plan. It's also being discussed why colleagues of the Speaker are running attack ads on members of the Freedom Caucus, and others, who oppose their presentation of this bill:
A group with close ties to House Republican leaders, including House Speaker Paul D. Ryan (R-Wis.), is airing a half-million dollars' worth of television ads in more than two dozen media markets urging unruly conservatives to support GOP health-care legislation.
The American Action Network, a 501(c)(4) issue-advocacy group affiliated with the Congressional Leadership Fund Super PAC, is targeting 30 members it says are part of the House Freedom Caucus — the hard-line conservative group that has threatened to oppose the American Health Care Act over concerns that it does not do enough to roll back former president Barack Obama's Affordable Care Act.
The ads, set to run for two weeks, make the case that the GOP bill is a true conservative alternative to the ACA, not a watered-down version of it: "Obamacare is full of job-destroying mandates. The new plan eliminates them. Obamacare put bureaucrats in control. The Republicans' plan puts patients and doctors in charge. Obamacare stuck families with soaring premiums. The new plan provides more choices and lower costs."
The spot ends with footage of President Trump telling Congress to "repeal and replace Obamacare" in his recent joint session address and asks viewers to tell their congressman to "vote with President Trump."
Here is a snapshot of their ideas:
5:05PM ET - Jeff Lord, Former associate political director in the Reagan administration, columnist and author of the book What America Needs: The Case for Trump and Leslie Marshall, host of the Leslie Marshall Show and Fox News Contributor, are here to discuss everything from the health care options being presented, the democrats decision to read the bill line by line, the FISA investigation, the new executive order on immigration and the information from today's press conference with Julian Assange.