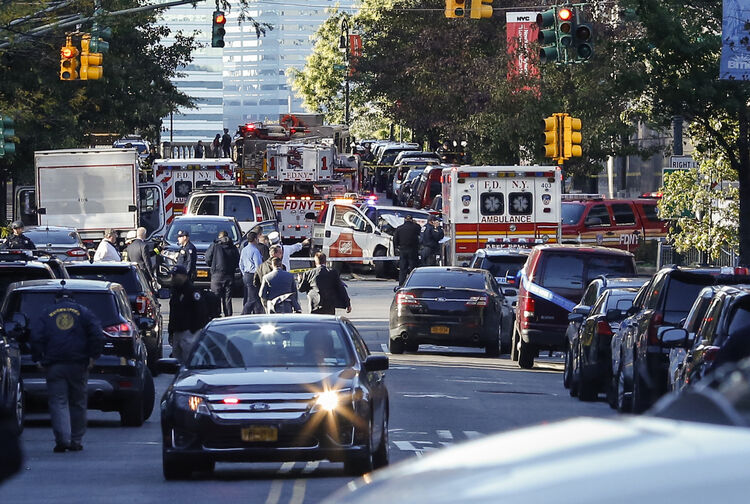 **TERROR ATTACK IN NYC LEAVES 8 DEAD AND 15 INJURED
**SUSPECT WENT TO A MOSQUE THAT WAS UNDER SURVEILLANCE, UNTIL CHRISTIE INTERVENED
**SUSPECT NOT JUST A LONE WOLF, BUT A KNOWN WOLF WAS INTERVIEWED IN 2015 BY OBAMA ADMINISTRATION
**TERRORIST LEAVES LETTER STATING ALLEGIANCE TO ISIS, PROUD OF ATTACK
**TAX PLAN TO BE UNVEILED TOMORROW, NO OBAMA MANDATE, NEW 4TH BRACKET
4:00 PM ET - Bill McGroarty. Retired Lieutenant with NYPD, worked 10 years in the Counter Terrorism Unit and Patrick Poole, National Security Correspondent for PJ Media, give us an intel perspective on the terror attack in NYC yesterday. Is this the beginning of a pattern on the United States? What signs or warnings were there that this attack was coming?
***NOTE: Bill McGroarty and his unit had done surveillance on the mosque that the terror suspect attended...unfortunately, Chris Christie outed the NYPD's surveillance efforts and forced them to end the program
The Uzbekistan native accused of killing eight people in New York City had been planning his attack for weeks and did prior reconnaissance before he plowed a rented truck into pedestrians along a popular Manhattan bike path, officials revealed Wednesday.
Sayfullo Saipov, 29, was interviewed by investigators at the hospital after his surgery Wednesday, John Miller, NYPD's Deputy Commissioner of Intelligence and Counterterrorism, said in a news conference. Miller did not reveal what was said, though reports indicated Saipov bragged about the assault and said he was "proud" of the attack. NYPD Commissioner James O'Neill would not confirm the statement.
Days before Tuesday's assault, ISIS had been encouraging its followers to carry out Halloween attacks with propaganda from the terror group showing a graphic with a blood-splattered machete and Tuesday's date. SITE intelligence group, which monitors terror activity online, also highlighted a recent photo taken by an ISIS supporter near the scene of Tuesday's attack; but it remained unclear if there was a connection between that photo and the rampage. (h/t Fox News)
4:30 PM ET - Bill O'Reilly, conservative figure and author of "Killing England" gives us his perspective on Harvey Weinstein, the culture of depravity, false accusations and the damage it does to victims trying to speak out, and the political correctness that brings terror attacks to NYC streets. From a NY Times article in 2014 on the ending of the NYPD putting an end to its surveillance unit:
As a candidate, Mayor Bill de Blasio said he was "deeply troubled" by the tactic of surveilling mosques. Despite investigations that stretched for years, the Police Department's efforts never led to charges that a mosque or an Islamic organization was itself a terrorist enterprise.
The future of those programs remains unclear. The former police commissioner, Raymond W. Kelly, has said his efforts were lawful and helped protect the city from terrorist attacks. Last month, a federal judge in New Jersey dismissed a lawsuit over the department's surveillance there, saying Muslims could not prove they were harmed by the tactics.
5:00 PM ET - Freedom Caucus Chairman, Congressman Mark Meadows of North Carolina, and Freedom Caucus Member Congressman Dave Brat of Virginia, who is a former economics professor, are here to talk about the budget passing, the tax bill, the details of which are expected to be released this week, and what the American people can really expect before the end of the year. The unveiling of this current tax bill is pushed back until tomorrow, but what we do know is that the President wants the ACA mandate removed and 4th tax bracket added.
President Trump on Wednesday called on Republicans to add repeal of Obamacare's individual mandate to tax reform, dropping a bomb on already fragile House negotiations.
"Wouldn't it be great to Repeal the very unfair and unpopular Individual Mandate in ObamaCare and use those savings for further tax cuts," Trump tweeted on Wednesday. "The House and Senate should consider ASAP as the process of final approval moves along. Push Biggest Tax Cuts EVER." (h/t Washington Examiner)