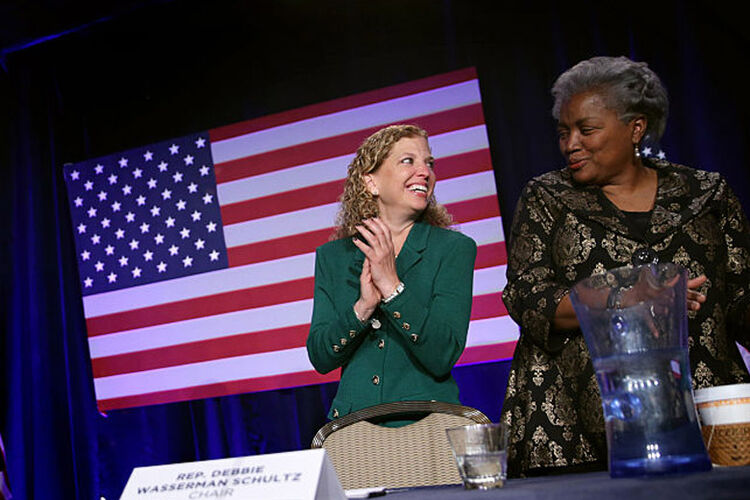 **REPUBLICANS UNVEIL THE LONG AWAITED TAX PLAN TO MIXED REVIEWS
**INDIVIDUAL MANDATE LEFT IN, NO DEDUCTIONS FOR HEALTHCARE EXPENSES??
**PRESIDENT TRUMP PROMISES THAT REPATRIATION TAX WILL BRING HOME JOBS
**DEMOCRATS CRY THAT THIS A TAX PLAN FOR THE RICH, NO HELP FOR THE MIDDLE CLASS
**DONNA BRAZILE CALLS OUT HER FORMER COLLEAGUES, NAMES NAMES
**SAYS DEBBIE WASSERMAN SCHULTZ AND HILLARY CLINTON STRUCK A DEAL
**WIFE OF NYC TERRORIST SAYS SHE KNEW NOTHING ABOUT HUSBAND'S ATTACK
4:05PM ET - John Solomon, Executive Vice President of Digital Video for The Hill, is here with breaking news on the involvement of the Obama Administration with Uranium One Inc., and after careful review of internal memos it appears they did allow the shipments of yellowcake uranium to be exported to Canada, Europe and beyond.
"Neither Uranium One Inc. nor AMRZ holds a specific NRC export license. In order to export uranium from the United States, Uranium One Inc. or ARMZ would need to apply for and obtain a specific NRC license authorizing the exports of uranium for use in reactor fuel," then-NRC Chairman Gregory Jaczko wrote to Barrasso.
The NRC never issued an export license to the Russian firm, a fact so engrained in the narrative of the Uranium One controversy that it showed up in The Washington Post's official fact-checker site this week. "We have noted repeatedly that extracted uranium could not be exported by Russia without a license, which Rosatom does not have," the Post reported on Monday, linking to the 2011 Barrasso letter.
Yet NRC memos reviewed by The Hill show that it did approve the shipment of yellowcake uranium — the raw material used to make nuclear fuel and weapons — from the Russian-owned mines in the United States to Canada in 2012 through a third party. Later, the Obama administration approved some of that uranium going all the way to Europe, government documents show.
4:30PM ET - Larry Kudlow, CNBC host, former Reagan administration economist and author of the new book JFK and the Reagan Revolution: A Secret History of American Prosperity and Freedom Caucus Member Congressman Dave Brat are here to talk about the Republican tax plan that was unveiled today.
House Republicans on Thursday released their long-awaited legislation to overhaul the tax code, proposing major cuts to corporate and individual tax rates.
The 429-page bill, called the "Tax Cuts and Jobs Act," represents the opening salvo in the GOP's fight to rewrite the tax code for the first time in more than 30 years.
"It's the beginning of the end of this horrible tax code," House Ways and Means Committee Chairman Kevin Brady (R-Texas) said.
The bill largely follows the parameters that GOP leaders and the White House outlined in September. It would reduce the number of individual tax brackets, slash rates for businesses and eliminate a number of tax breaks.
In order to offset the costs of the legislation, Republicans are putting forward some proposals that are sure to be controversial. (h/t The Hill)
5:05PM ET - Jonathan Gilliam, is host of The Experts and author of the upcoming book, Sheep No More and Geraldo Rivera, FOX News Legal Analyst, are here to debate and discuss the aftermath of the attack. Is political correctness killing innocent civilians? How many programs have to be ended to make sure that people do not feel offended? When the end result is a situation like this week in NY with 8 dead, 15 injured, and our stop and frisk programs halted in 2014 by Mayor DeBlasio, it's difficult to not wonder why. Finally, what does it mean that Donna Brazile is speaking out and telling the truth about the DNC and the under the table deals they made with Hillary Clinton.
5:30PM ET - Chris Gaubatz, National Security Consultant and Vice-President of Understanding the Threat and Philip Haney author of See Something, Say Nothing, and a founding member of the Department of Homeland Security, talk about the red flags that were available and ignored by members of our intelligence and terrorism units. Saipov was interviewed by the Obama administration in 2015, and then let go, despite remaining under watch. Remember that Haney was told to stop his investigative work, and explains the work he was carrying out in 2012 could have stopped terror attacks on our nation.
"After leaving my 15 year career at DHS, I can no longer be silent about the dangerous state of America's counter-terror strategy, our leaders' willingness to compromise the security of citizens for the ideological rigidity of political correctness—and, consequently, our vulnerability to devastating, mass-casualty attack.
Just before that Christmas Day attack, in early November 2009, I was ordered by my superiors at the Department of Homeland Security to delete or modify several hundred records of individuals tied to designated Islamist terror groups like Hamas from the important federal database, the Treasury Enforcement Communications System (TECS). These types of records are the basis for any ability to "connect dots."
As the number of successful and attempted Islamic terrorist attacks on America increased, the type of information that the Obama administration ordered removed from travel and national security databases was the kind of information that, if properly assessed, could have prevented subsequent domestic Islamist attacks.
It is very plausible that one or more of the subsequent terror attacks on the homeland could have been prevented if more subject matter experts in the Department of Homeland Security had been allowed to do our jobs back in late 2009. It is demoralizing—and infuriating—that today, those elusive dots are even harder to find, and harder to connect, than they were during the winter of 2009.